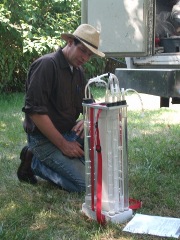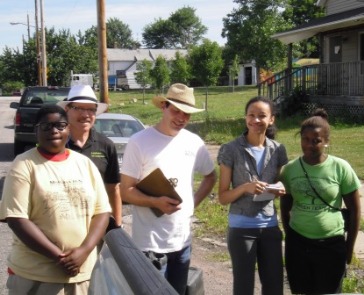 Research Hydrologist
I am an environmental scientist in federal service, and I study urban soils and their use to manage stormwater runoff and provide other ecosystem services.
Bill Shuster
Research Hydrologist
US- EPA (Environmental Protection Agency)
Government

I consider myself a: Environmental Scientist
My Highest Degree: Doctorate
I received my degrees from: BS - University of Michigan, Ann Arbor - Physics PhD - The Ohio State University, Columbus - Environmental Science
Length of Career: I have been an environmental scientist all of my life! I took my first water sample at seven years of age, when I was trying out for swim lessons in 1972. They wondered why I had a test tube in my hand, and you can't imagine the interest this generated. Keep in mind that this was also the year that USEPA became a major force in improving environmental quality for our nation.
What was your career path to your current position?
After earning my degree and driving a lumber truck for about one year, I interned on a family farm in Maine, and I took that summer to figure out what I was going to do with a degree in physics. I wrote to USDA if there was any work that would bring soils and physics together. They wrote back and said "how about soil physics?". I had the good fortune of working as a technician in soil physics and soil ecology for seven years and learn some good skills that led me to an interdisciplinary Ph.D. program that integrated soil science, ecology, statistics, and civil engineering. My flexibility in working in the areas of soils and sustainable water resources management got me hooked into USEPA as a research hydrologist.
What projects are you working on now? What interesting projects have you worked on/led in the past?
I currently work in urban communities and take deep soil cores to understand how soils form and change in urban areas. I also make measurements to determine how fast water moves through these soils at different depths. Many cities are looking for ways to do something useful with stormwater, and I say let's see about letting it soak into the soil, and complete the urban water cycle. Yet, we first have to know about the qualities of these soils, and what might make them useful to better manage our urban environments.

In the past, I have installed rain gardens (soils + plants) and rain barrels in a suburban neighborhood to see if people liked them, and if these practices soaked up or stored enough rainwater to improve the environment. I worked with an economist, chemist, ecologist, and lawyer. It is important to have a team to work on the tough problems in environmental protection.
What do you find most interesting about your work (either currently or a story of a past experience)?
I like learning about the different soils around our nation, and understanding that every soil presents opportunities to help us manage the environment.
What do you like best about your job and/or what do you like best about being in your profession?
I feel strongly that we all have a role in environmental management and sustaining our life support systems on Earth. So, every day I feel that I contribute to being a good steward of the Earth, and communicate this to my fellow citizens at every opportunity.
What's the one thing you would change about your job/profession that would make it better?
I would rather be in the field 100% of the time, but that would not leave time for other important aspects of what a scientist does, which includes analyzing data, writing papers, communicating with citizens and scientists.
What would you say to someone thinking about entering the profession? What advice would you give for succeeding in this field?
I would say "we need you!" Working as a technician can be tough work, but it is the best place to pick up field and lab skills and be paid for this work, and it will help you decide what it is that you would really like to do. There are many rewarding paths to take, and do not prematurely jump into graduate school until you have a firm grasp of the tools of the trade.
What do you like doing in your free time?
I enjoy spending time with my family, playing electric and acoustic bass, dabble in electronics, and practice my photography skills.
If you have more questions about my career, feel free to contact me at:

Bill Shuster
Hydrologist
US- EPA (Environmental Protection Agency)
Cincinnati, OH
US- EPA (Environmental Protection Agency)
513-569-7244
shuster.william@epa.gov