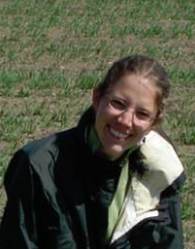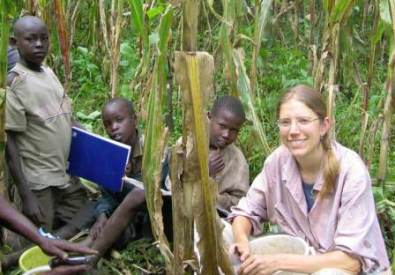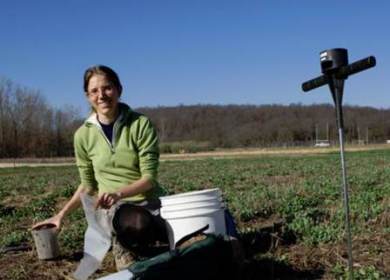 Bridging Research and Practice
Deep impressions about the importance of soil.
Bianca Moebius-Clune
Extension Associate
USDA-NRCS
Academia

I consider myself a: Soil Scientist
My Highest Degree: Doctorate
I received my degrees from: BS: University of New Hampshire MS: Cornell University PhD: Cornell University
I received my degree(s) in: BS: soil science major, wetland ecology minor MS: soil science major, agronomy minor PhD: soil science major, agricultural education minor, conservation and sustainable development minor
Length of Career: I've been a soil scientist for over a decade.
What was your career path to your current position?
I became immersed in soil science during college. My 6 month study abroad in 1999 in Madagascar left deep impressions about the importance of soil in everything, including food and water security. That led me back to pursue further soil science degrees in agriculture at Cornell University, and got me involved in my current projects.
What projects are you working on now? What interesting projects have you worked on/led in the past?
I coordinate two initiatives: Cornell Soil Health and the Adaptive Nitrogen Management. Both address major current issues: soil degradation linked to long-term food security issues, and nitrogen management that pollutes water and air. Both initiatives bridge research, tool development, and promoting better on-the-ground soil management by land managers (growers, consultants, extension personnel, crop consultants) through using those tools.
What do you like best about your job and/or what do you like best about being in your profession?
Many things! A few highlights: that what I do is making a difference in peoples' lives and the environment; that it is possible to find win-win-opportunities that improve economic and environmental sustainability at the same time; working with soil and food.
What's the one thing you would change about your job/profession that would make it better?
We apply for competitive grants, and those that come through provide my salary… a more stable source of income would be nice.
What would you say to someone thinking about entering the profession? What advice would you give for succeeding in this field?
Great! Go for it! I think soil scientists are going to be more, not less needed in the future, as a lot of the issues facing us as a species on this planet come back to soils. Advice? Find your niche depending on what you do best and enjoy most – the field of soil science is broad and full of diverse opportunities.
What do you like doing in your free time?
Hiking, biking, swimming, skiing, gardening (yes, I grow food for fun, too, not just for work – I really love it!), cooking, spending time with friends and family…
If you have more questions about my career, feel free to contact me at:

Bianca Moebius-Clune
Director, NRCS Soil Health Division
USDA-NRCS
Washington, DC
USDA-NRCS
bianca.moebius-clune@wdc.usda.gov